fernbank

" The Majii Project really made a difference in the lives of the Fernbank students. Under Stan's enthusiastic direction they even surprised themselves with their outstanding drawings of mountain gorillas. Marc-Daniel taught them how important their individual efforts are in helping an endangered species survive."
Geri Forkner, Art Teacher
Fernbank Elementary School, DeKalb County, Atlanta

The Majii Project at Fernbank
by
Becky Evans
At Fernbank, we were looking for ways to promote the idea that we are all "world citizens." By learning about the endangered mountain gorillas in Rwanda from Marc-Daniel and Stan, and then drawing the gorillas, the students better identified with the plight of Rwandan citizens and wildlife halfway across the world.
So often when children learn about injustices of the world, they want to do something tangible to help, but they don't have the forum for meaningful action. The Majii Project gave Fernbank students the opportunity to participate in improving the lives of Rwandan gorillas and children, just by drawing pictures.
Many of these students' artwork appears in the Majii book, and Marc-Daniel has generously dedicated seventy two percent of the profits from the sale of the book to the Dian Fossey Gorilla Fund International (DFGFI).
Working on the video for the project opened my eyes to the many talents of several Druid Hills High School students and Fernbank parents who are media professionals. The youth, guided by the parents, spent countless hours shooting footage in the classrooms, writing scripts, conducting interviews, and editing their footage.
I just don't think this kind of inter-generational, inter-school collaboration happens too often, and Fernbank is so blessed that we have this kind of talent.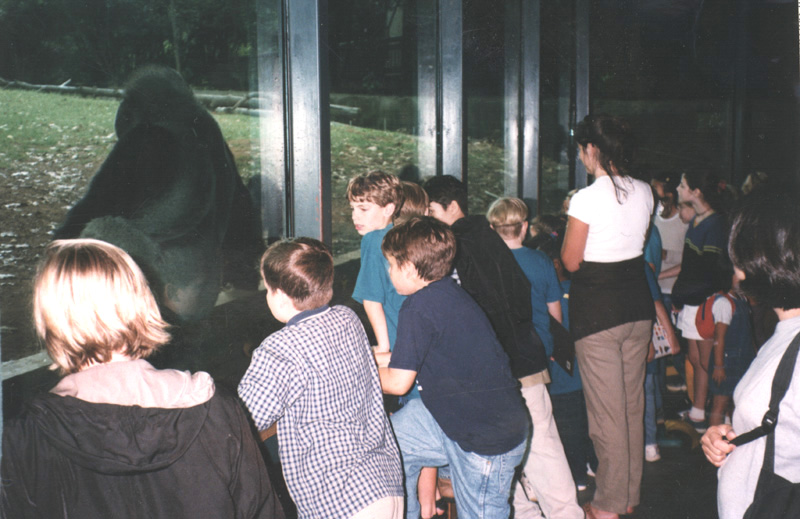 Visit to the zoo and Willie B. by Fernbank students (October 1999)
Photo by Nancy Fox Ciliax
Fernbank student drawings:


copyright © 1995-2014