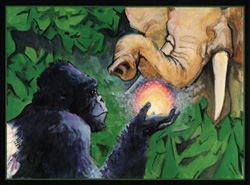 In the morning the family got up slowly. They had a mixture of leaves and grass for breakfast. Everybody happily ate their food and enjoyed the bright morning sun. Then Mukuru, Kosa, and Majii went for a long walk to meet Tembo, the mountain elephant.
"Good morning and welcome to our home," Tembo said to Majii. "Before I say anything, let me sprinkle some dust on with my trunk. It's my way of saying hello!"
Majii thought, "Everyone has their own way of saying hello."
"But where is the rest of your family?" Majii asked.
"To keep my family safe, I sent them to visit their cousins in Zaire. Life is hard here. So many of our trees have been cut down that the weather has changed, and there is not enough rain to make the rivers from which we drink. When I was a baby elephant, my parents thought that this forest had no end. But now there are only small patches of trees, and my family is much smaller. To live, we must travel many miles to find food and water."
"I feel sorry for your family," said Majii. "Can I do anything to help you?"
"We need to teach the world about the beauty of trees and the importance of forests to big and little elephants and big and little animals of all kinds. We need the clouds to bring us more rain so that we can always find food and water near home," said Tembo.
"I am a raindrop! Maybe I can help! I will talk to my friends and family when I get home!" said Majii.